Introduction
It is hard to know where to start the story of my family history. It would be difficult to start at the beginning because my earliest roots are uncertain. And it would be unethical to start at the end because that would involve mention of lots of people who are still alive or lived during the 20th Century. That leaves the middle, which is actually a good place to start because my interest in my ancestors was sparked when I came into possession of the Family Bible, which documents my 19th Century Ford ancestry. So let us start there.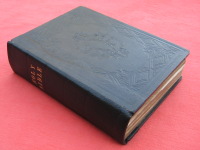 The Family Bible
The Family Bible is one of those large Victorian editions weighing nearly 5Kg that today's youngsters are unlikely to give house-room. It was published in 1861 and might have been a 21st birthday gift to my great-grandfather, Thomas Ford, 1840-1884. Or it might have been a wedding present. His name is the first to appear in the Family Register of Parents Names, between the Old and New Testaments. And his marriage to Rose is the first of three marriages recorded.

The hand writing on the Fly Leaf, and in the entries in the Register prior to 1882 were all made by one person, almost certainly Thomas Ford. The writing is beautiful copper plate script, indicating a well educated man. After the death of Rose, his first wife, the entries are made in other hands. And here a mystery opens. His second marriage to Elizabeth, the birth of two children and his own death are all recorded in other hands within the space of two years of his first wife's death.
The Fly Leaf
Some time after acquiring his Bible, Thomas Ford set down the names and birth dates of his parents and siblings on the front fly leaf, as follows:
Isaac Ford Born August 6th 1800
Mary Ford Born March 15th 1802
Lionel Ford Born August 15th 1822
Hannah Ford Born May 14th 1824
Edna Ford Born May 16th 1826
Enoch Ford Born June 26th 1828
Thomas Ford Born September 11th 1830
Mary Ford Born April 9th 1836
Thomas Ford Born August 24th 1840
John Ford Born July 7th 1844
This list represents the only certain documentary proof of my ancestry back to 1800. However, as we will see later, there is circumstantial evidence in church records that help to identify Isaac Ford's parents and siblings, and so on back in time.
Family Register: Parents Names
If this is Thomas Ford's bible then whose names go in the Parents Register? Clearly not his parents. Did he assume that he and Rose were the parents? Whatever, the entries are:
Thomas Ford Born August 24th 1840
Rose Ford Born June 11the 1846
Thomas Ford Born Dec 21st 1874
Annie Elizabeth Ford Born 1872 14 Sept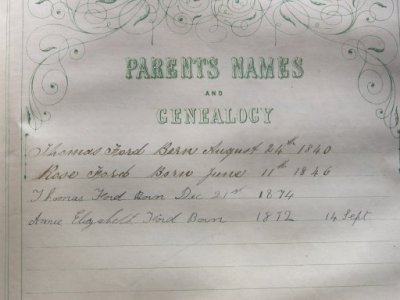 The younger Thomas Ford, my grandfather, was the eldest son and must have inherited the Family Bible. He may have made the entries for himself and his wife when they became parents, and the entries for his children on the Childrens Names page.
Family Register: Childrens Names
There can be no doubt in this case that the first group of children are those of Thomas Ford (1840-1884), followed by those of Thomas Ford (1874-1946). The entries are as follows:
Mary Ford Born March 22nd 1871
Edna Ford Born September 15th 1872
Thomas Ford Born December 21st 1874
Hannah Ford Born March 27 1880
Harriet Ford born February 22
Arthur Ford born May 13
Hilda Ford Born August 17th 1903
Thomas Leonard Ford born 9th March 1906
Clifford Ford born 17 March 1910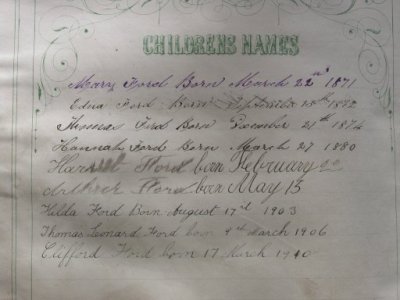 The years are not given for Harriet and Arthur, children of Thomas Ford's second marriage to Elizabeth, but the 1891 Census [5th April] suggests they were 1883 and 1884.
Family Register: Marriages
The first entry in the Marriages list is in the impeccable handwriting of Thomas For, 1840-1884, but for some reason the date and the year have been omitted. The date and year have also been omitted from his second marriage, although it must have been 1882. The entries are as follows:
Thomas & Rose Ford Married May
Thomas and Elizabeth
Thomas and Annie Elizabeth Feb 18th 1901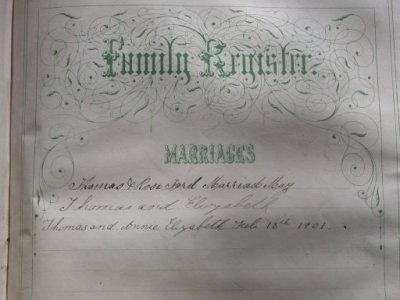 Family Register: Deaths
The sad page:
Rose Ford Died March 31st 1882
Thomas Ford Died March 22nd 1884
Thomas Ford Died Sept 25th 1946
Annie Elizabeth Ford Died June 10th 1956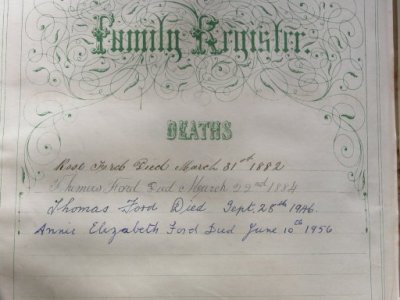 The first entry is again in Thomas Ford senior's immaculate hand writing.The second is in another equally immaculate hand that appears for this one entry only.
Who was Thomas Ford 1840-1884?
There are no current memories of my great grandfather - my grandparents and parents are long gone. The only memory I have is of a visit to Salford with my parents and Aunt Hilda around 1956-1960 to seek out Arthur, my grandfather's half-bother. We found him in a nursing home, and all I remember is a hospital ward of senile men. Arthur would have been over 70 at that time. Certainly Thomas Ford's second marriage so very soon after his first wife's death is intriguing. On reflection, I do have a vague memory of some close connection of my grandfather's family with with the Methodist Church.