Welcome to my Ford Family History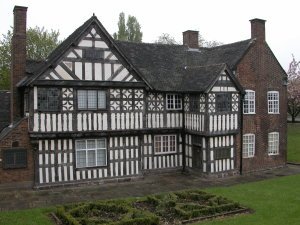 Ford Green in Norton parish, 5.2 sat-nav miles from Mow Cop, was the home of a Ford family of yeoman farmers for almost 500 years from 1317 until 1803. Their final dwelling place was Ford Green Hall, a 17th Century timber framed building that is the oldest house in the City of Stoke on Trent and now a museum well worth a visit.
The history of the Ford Green family has been documented by a number of authors:

The fford.me.uk website is about me, Clifford E Ford, and the history of my family, particularly those of my ancestors bearing the Ford name who were born and raised on the flanks of Mow Cop on the Staffordshire-Cheshire border. I chose the fford.me.uk domain name because more obvious names were taken, and because in some old, hand-written documents the name Ford appears to be spelled fford, with two lower case f characters rather than an upper case F. Some families still use the latter form, or have reverted to it, Not me! I am decidedly a Ford.
The surname fford, with two small fs, is one of a variety of spellings of Ford, a topographically derived name of Anglo-Saxon origin that might have been applied to anyone who lived adjacent to a ford, a shallow river crossing. Although people with the name Ford from different parts of the country are not necessarily related in any way,